Angelic Angel Psychic
I am Angelic Angel Advisor. I'm a natural gifted psychic and tarot card reader I do answer all specific questions I can give advice on all aspects of career, family, love, life, and spirituality. I will be able to let you know if he/she is the right one for you and help lead you; guide you to your destiny throughout your life, I am also a love specialist I can help lead you to your true loving soulmate, I am also very direct and get straight to the core of your situation, no sugar-coating high accuracy rate. Call me today and see for yourself and have all of your confusing questions answered by a psychic love specialist. I have been blessed with the gift to seek deep into your past, present and future. I have all of your answers waiting for you, my goal is to help provide those that are seeking guidance throughout the field of love and all other aspects of life, I have dedicated my life to all who need advice, guidance, answers to life's most difficult situations, I have been reading for over 30 yrs. I also provide psychic readings. Love readings, past life regression reading aura reading, love readings and much more, call me today to feel more satisfied with also clarity within your inner self. May God bless you always.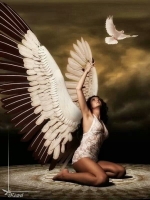 What can a caller expect from a consultation with you?Expect a consultation from someone with three decades of lifelong spiritual gifts, expect honest answers.
Name some specific experiences where you've used your abilities.I have provided celebrities and local law enforcement with specific information to identify suspects on numerous occasions. I have provided insight as to various situations to resolve questions on issues unanswered regarding traumatic incidents.
How long have you been aware of your abilities, and how have you developed them?I was made aware of my gifts as a child. As I began reading by the time I could speak.
Describe your areas of expertise.I have over 30 years' experience with areas of expertise are career, life, love and relationship coaching.
My Scorecard
Average Call Rating:
4.62 out of 5
Personality Score:
8.45 out of 10
My Recent Reviews
My Store