Mystic Healer and Deep Empath
I am Tarot Sheel, and I have been a Tarot reader, mystic, and healer for 18 years, carrying on the family tradition of healing and reflexology abilities passed on through my family since 1800. Inherited from my mother, I possess a strong sense of empathy and the ability to assess the mental and emotional suffering of individuals. I can offer assistance with heartbreak anxiety, suicidal tendencies, nervousness, and any other emotional challenges using natural healing methods and Tarot reading. I can give you simple and authentic solutions for your everyday life and thanks to my ongoing learning with my mentors and keep adding new remedies to my list. Every morning at 4 am I connect with the Divine through prayer and have witnessed real-life miracles through the power of prayer which is my life mantra! If you seek guidance on prayer and peace I can share with you a few words that can work wonders in your life.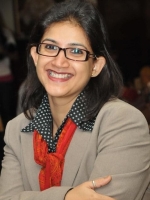 What can a caller expect from a consultation with you?You can expect to feel relieved from stress, and anxiety, and overcome any suicidal tendencies. I am an expert who can help you diffuse emotional agony or longing for someone and help you tap into your inner strength which will heal you instantly.
How long have you been aware of your abilities, and how have you developed them?My mother was my Guru and I was her caretaker. She was blind for most of her life. She made me tap into my abilities when I accompanied her for her in-person healing sessions. At the age of 22, I realized that my mother's gift of healing has been passed on to me when I helped an old woman deal with emotional pain. My mother is no more and I have continued her legacy of healing people since the year 2005.
Describe your areas of expertise.Mysticism, Reflexology, Tarot reading, Prayers, and manifestation.
My Scorecard
Average Call Rating:
0.00 out of 5
Personality Score:
0 out of 10
The connection quality of calls with me are frequently described as:
No Data to Show at this time
Most Common Call Reasons:
No Data to Show at this time
A call with me is frequently described as:
No Data to Show at this time
Callers often describe me as:
No Data to Show at this time
My most mentioned special talent is:
No Data to Show at this time
My Recent Reviews
I don't have any reviews yet.
My Store